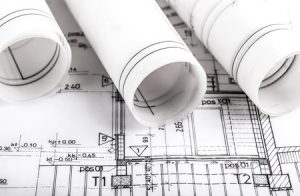 When it comes to a building project, there are usually two parts to the works involved: the sub-structures and the super-structures.
But what's the difference?  Essentially the sub-structure relates to the part of the building that is constructed below ground level; whilst the super-structure is the part of the building that is above ground.
Sub-structures
Sub-structures generally include the footing and plinth of a building which safely transfers the load of the building to the underlying soil. The plans and works for the sub-structure of a building project should be carried out by a chartered structural engineer.
A structural engineer is responsible for calculating the loads and stresses that the construction will have to safely withstand.  They need to factor in the different qualities and strengths delivered by a range of building materials, and understand how to incorporate support beams, columns and foundations into the sub-structure plans.
Chartered practices like Prime Architecture will have experience of working with structural engineers, who are also charted, to develop plans and designs to ensure that the sub-structure and super-structure are completely aligned.
Super-structures
Chartered Architectural Practices are generally perceived as professionals who draw pretty pictures. The team at Prime are more than happy to prepare designs for their clients to show what the project will look like.  They can also produce 3D models so the client can have a visual walk through their project.
But there's far more to an architectural technologist's role in a building projects than simply producing drawings.  Cellan Jones from Prime Architecture explains in the video below:

So, as Cellan has explained, architectural professionals are also responsible for preparing the construction specifications as well as the detailed drawings of the super- too.  These designs include everything involved in the super-structure build from the slab upwards including all finishes, door and window schedules, flooring, roofing, lintels, parapets; in short, everything above the ground.
However, there can be some elements of the super-structure that a structural engineer would need to cover. For example, if the project involves a large open plan kitchen, dining and living room, then the engineer would need to provide the calculations and recommendations for the loadings.  If the construction involved a timber frame he may recommend a glulam beam; or if it's a masonry structure, he might suggest a universal beam.
Prime Architecture
If you're planning a new build project of any size or type, the chances are that you will require detailed plans for both the sub and super-structure elements of the works.
Prime Architecture can not only work with you to develop your visual or 3D designs and super-structure plans as well as recommending a chartered structural engineer for all sub-structure works.
Call us today on the number below to arrange a free consultation: