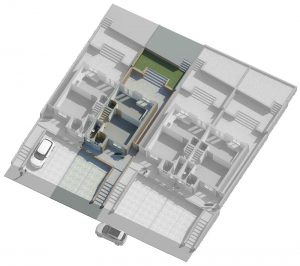 This is a question the team at Prime Architecture are often asked, as there seems to be some myths around a chartered architectural designer's role in a design and build project.
One definition of an architectural designer is 'a licensed professional who organises space'; and the architectural profession is renowned for working by using a combination of art and science.
In our opinion, a chartered architectural designer is professional who communicates ideas, and who can turn your dream into reality.  Whether you are planning to build a new home, or simply extend your existing property, a qualified, chartered architectural professional will always work to provide you with your ideal home.
Architectural designers don't just design houses, though; they also design offices and other commercial buildings, landscapes and even entire cities. The services offered by a chartered architectural professional depend on the type of project being developed.
Architectural Services
In addition to architectural drawings and plans, the range of services that an architectural professional can provide range from feasibility studies and preparing planning submissions, through to building regulations submissions, and cost control measures.
An experienced, chartered architectural professional will also be able to help with recommendations on which structural engineer, ecologist, builder or other consultants you should use. Alternatively, they can produce tender packages for a selection of specialists.  They should also be in a position to carry out regular inspections of the project.
Most importantly, an architectural professional can help you throughout the project by being on hand at every stage of the project, from the initial concept, right through to completion.
A professional architectural designer's prime objective is to design and plan spaces with a consideration for looks (aesthetics), safety and accessibility, functionality for the client, cost, specifying (the "specs") construction materials, and processes that do not negatively impact the environment.
Cellan Jones, a Director of Prime Architecture in Cross Hands, explains the role of an architectural professional in the video below:
Architectural Accreditations
When choosing a chartered architectural designer for your project, it's important to pick one that has a professional accreditation.  The team at Prime Architecture, for example, are accredited through CIAT (the Chartered Institute of Architectural Technologists). This is important because achieving this accreditation is recognition of architectural skills and competence when it comes to architecture, as well as demonstrating high levels of quality assurance and achievement.
A chartered architectural technologist is the only designer who can rightfully hold the distinction of 'MCIAT'. As a professional, the term 'architectural technologist' is ethically bound by codes of conduct, and should be trusted to abide by all rules and regulations associated with a building project. Throughout their careers, chartered architectural professionals participate in continuing education and professional development, similar to that of doctors and lawyers.
Prime Architecture
So, don't be influenced by friends and family who may say you don't need an architect to help you achieve your dream home.  The chances are that this dream could turn into a nightmare without proper professional advice and guidance.
To find out more about how Prime Architecture works with clients to achieve seamless services with an outstanding end result, call us to book a free consultation on the number below: